In central Greece, there is a dreamlike, magical and secret peninsula, where ancient Greek Gods used to have their holidays!
Mount Pelion is cradled by olive, apple and fruit orchars, along with wild forests of chestnut trees, pine trees, plane trees and oaks. And all these end up to the bright blue Aegean Sea.
Archontika Karamarlis Boutique Hotel and Guesthouse is a complex of old 17th-century stone-built mansions.  George Karamarlis, the current owner, meticulously restored with the utmost respect for its long history, his family house in Makrinitsa Pelion, with an air of discreet luxury!
With a breathtaking view over the Pagasitikos Gulf Archontika Karamarlis is a year-round pole of attraction as a comprehensive vacation experience. George Karamarlis and his wife will be always there to guarantee a unique traditional vacation experience in the heart of the picturesque village of Makrinitsa.
Explore the traditional cobblestones surrounded by old mansions and experience tailor made holidays in Greece away from the crowded mass tourism islands.
Taste our greek breakfast with local delicacies. All our special treats are prepared daily with our family's recipes handed over from generation to generation. Drink hot therapeutic herbs(there are 3500 different kind of herbs and plants on the mountain)  and start your daily experience full of  positive energy! Archontika Karamarlis is a place that will undoubtedly remain etched in your memory for years to come and you will certainly return!
Read more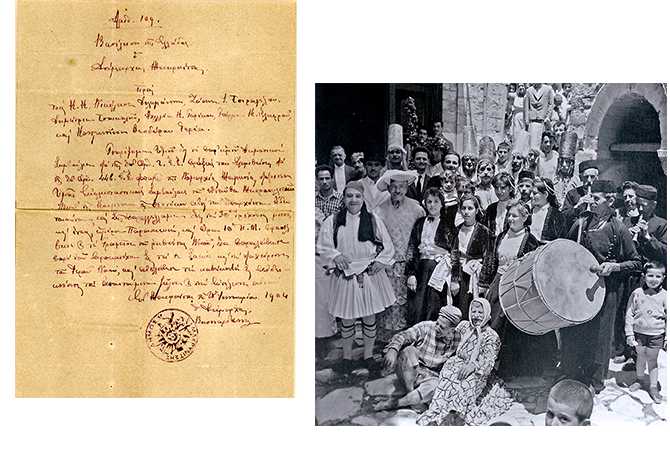 FAMILY
The old mansions that formour hotel were actually built by our ancestors. We are trully grateful to our beloved great grandfathers that inspired building the family house in the heart of Makrinitsa!
Today`s owner, George Karamarlis inspired the transformation of the family house to a small luxury boutique hotel, which he manages with his family.
Read more